Description
Buy Ferrero Rocher Wholesale
Produced by the Italian chocolatier Ferrero, Ferrero Rocher bulk buy is a chocolate hazelnut confectionery. With a conscious effort for perfection and excellence, and after just a few years, bulk buy ferrero rocher has become the most loved chocolate for millions of people. Chocolate hazelnut and milk chocolates, with a smooth filling combined with the crunch of hazelnut. A single bite of Ferrero Rocher bulk is a tempting combination of luscious, creamy chocolaty feeling surrounding a whole hazelnut.
Buy Ferrero Rocher Bulk in many parts of the world is referred to as the world leader of its class with its original recipe, refined packaging and famous advertising campaigns. With just one gift box, you get a single layer of 48 Ferrero Rocher Chocolates to put a smile on a friend or family members face. Looking for where to buy ferrero rocher in bulk, bulk buy ferrero rocher, where can i buy ferrero rocher in bulk? We are the number one wholesale suppliers of confectionery worldwide.
PRODUCT FEATURES:
Ferrero Rocher is a creamy chocolate filling, and on the inside a light crispy wafer.
Ferrero Rocher roasted Hazelnut Creamy Chocolates Wrapped in milk chocolate and chopped hazelnuts.
Perfect for a gift, sharing.
Suitable for Vegetarians.
A single  gift box contains one layer of 48 Ferrero Rocher.
Stocked in our warehouses is a collection of Ferrero Chocolate products. It contains Rondnoirs, Buy ferrero rocher wholesale, Coconut Rafaellos, a crispy wafer containing chocolate cream, ferrero rocher bulk buy, sprinkled with shredded coconut, and an almond pearl, coated in dark chocolate, a creamy chocolate centre, studded with toasted almond.
Ingredients
Cocoa Mass, Skimmed Milk Powder, Fat-Reduced Cocoa, Milk Chocolate 30%, Cocoa Butter, Concentrated Butter, Hazelnuts (28.5%), Emulsifier, Palm Oil, Lecithins (Soya), Vanillin), Sugar, Wheat Flour, Whey Powder (Milk), Emulsifier.
Precuation: Ferrero rocher bulk contains Soya. Contains Wheat, Contains Milk, HazelnutsContains Almonds, cocoa beans.
Quality guarantee
We are commited to providing you and your customers our very best.
All brands are directly from manufacturers and we respect all product 
regulations when you Buy Ferrero Rocher Bulk.
Find out more about our devotion to quality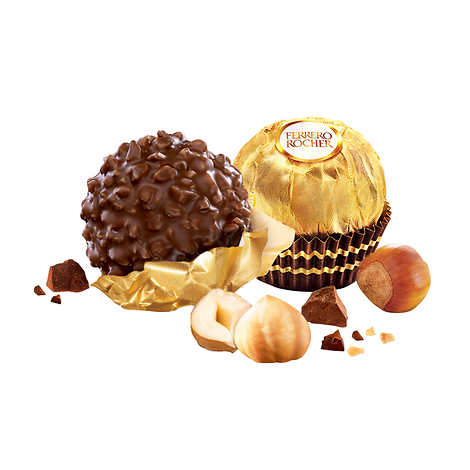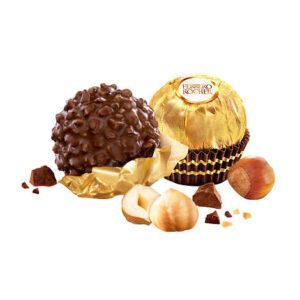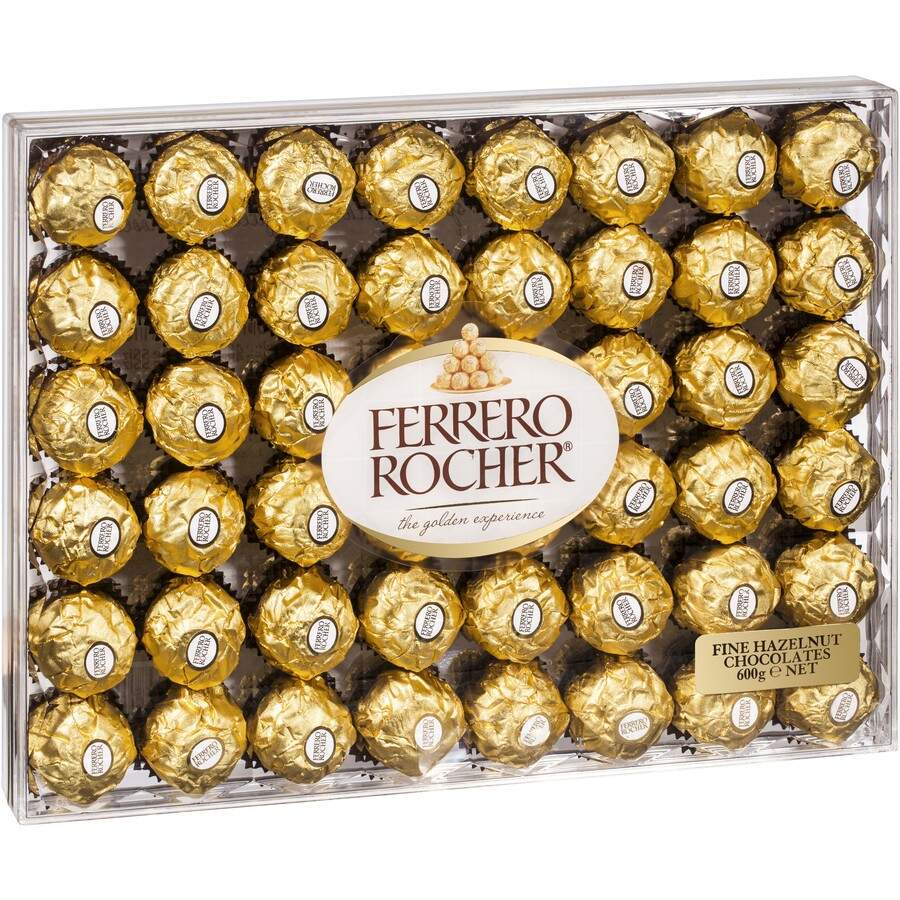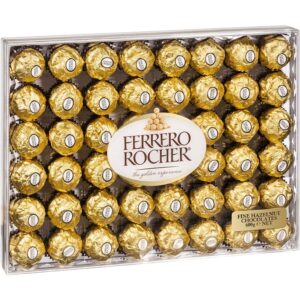 Key Specifications
Ferrero Rocher is a praline specialty that combines quality hazelnuts and a delicious, creamy center in a crispy spherical wafer draped in exquisite milk chocolate and gently chopped hazelnuts.
Ferrero Rocher chocolates are 100% authentic, unmelted, and unopened. Ferrero Rocher chocolates are carefully packaged and carried in thermal insulated cooler bags to avoid melting during transit in the summer heat. Enjoy the exquisite flavor of imported Ferrero Rocher chocolates with confidence.
Advantages
All ages like the flavor of chocolate and milk sweets.
Excellent chewing quality
The candy's feature is that it may be stored in a warehouse for a long period without melting.
Ideal for wholesalers, market sales, retail shops, gifts, and festival promotions
Energy and a pleasant attitude are provided by excellent snake food.
One-of-a-kind products Please contact me for further goods.
The more information you provide about your preferred candy types, the more product information and pricing will be sent promptly.
–
If your request is not mentioned, please contact us.
Note that the labels are available in various languages, including English, Dutch/German, Italian, Arabic, Turkish, Russian, and other languages, upon request.